*JKSCERT Recruitment Notification*
Online applications are invited from eligible and interested candidates from School Education Cadre for filling of vacant positions in J&K SCERT (Divisional & Central offices) and associated DIETs of JKUT on standard terms and conditions of deputation contained in Schedule XVIII of J&K Civil Service Regulations-1956, as per. details notified vide Government Order No. 1687-JK(Edu) of 2021 dated 08.12.2021 and criteria annexed to this notification.
Posts Advertised :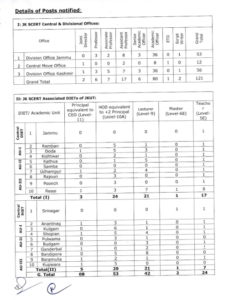 Important Terms :
a) Candidates may apply online in prescribed application format (Google form) along with self-attested copies of documents in PDF format; available at School Education Department's website www.jkeducation.gov.in
b) School Education Department reserves the right to reject the incomplete application forms.
c) Selection will be made on the basis of individual's performance in the interaction (If eligible). Provided the department can relax the eligibility/qualification for above-identified posts; if it deems fit and proper under given circumstances.
d) Submission of application other than online mode shall not be entertained.
e) Term and condition of deputation will be as per JK CSR Rules and norms for deputation and School Education Department's Government Order No. 197-Edu of 200, dated 01.9.2020.
f) Applicants are strictly instructed not to send any hard copy of the application to SED.
g) Submission of wrong or false or fabricated information shall lead to rejection of candidature and action under CSR.
h) The list of candidates to be called for the verification of Documents will be displayed on the website of SED J&K.
i) The SED reserves the right to increase or decrease the number of posts or not fill up any of the vacancies advertised if circumstances so warranted.
j) The Officers/Officials working in JK SCERT & Associated DIETs can also apply, however, in case of more than 4 years stay should apply in ATD-2022.
k) The last date for receiving online application is 15-1-2022
Last Date to Apply: 15/01/2022