Many a times we are stuck outside state or just feeling lazy at home and want to transact through your Jammu and Kashmir Bank Account. Now, you can register for Jammu and Kashmir mPay app from home in just few minutes. We will guide you step by step though the process. Let's get rolling.
What you need?
A smartphone with internet connection.
J&K Saving or Current bank account.
Registered mobile number with your J&K Bank Account.
J&K Bank Debit/ATM Card.
How to Download mPay app.
J&K Bank's mPay app is available on Google Play Store and Apple App Store. Click on your respective links:


Procedure:
STEP I: Keep your registered mobile number as primary SIM for sending SMS in your device.
STEP II: Open J&K Bank mPay app on your android or iOS device.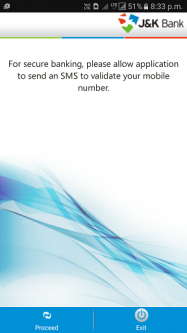 STEP III: Click on Proceed. The App will send SMS via your primary SIM to J&K bank which will confirm account number linked to this mobile number. Following screen will be shown: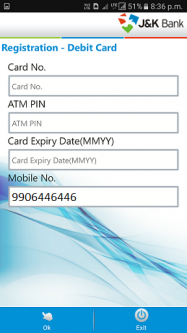 STEP IV: Enter your Card Number, 4 digit ATM PIN and Card Expiry date in MMYY format. Mobile number will be auto populated. Click on OK.