Government of Jammu & Kashmir

Department of Floriculture Srinagar Kashmir

Notification No. 01 of 2016/ Dated 29/10/2016
[dropcap]A[/dropcap]pplication are invited for direct recruitment of Class-IV Posts(Divisional Cadre) in the department of floriculture Kashmir in the pay scale of Rs. 4440-7440 with a pay grade of 1300.
[highlight]
Total Number of Posts: 55
Last Date: 30/11/2016
[/highlight]
Check out full details below: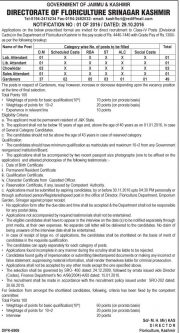 You can Download the Application Form here.
Remain updated about all the Job notifications in your area. Subscribe to us via email, like us on facebook or Follow us on Twitter.