J&K KHADI AND VILLAGE INDUSTRIES BOARD
OLD SECRETARIAT SRINAGAR
Advertisement Notice NO: KVIB/01 of 2016 Dated: 08.10.2016
In super-session of Advertisement Notice issued vide No:KVIB/01 of 2013 and No. KVIB/02 of 2013 dated 26.04.2013 applications as per format Annexed at Annexure A are invited for the following posts in Jammu and Kashmir Khadi and Village Industries Board from the candidates who possess the prescribed qualification mentioned against each post detailed here under.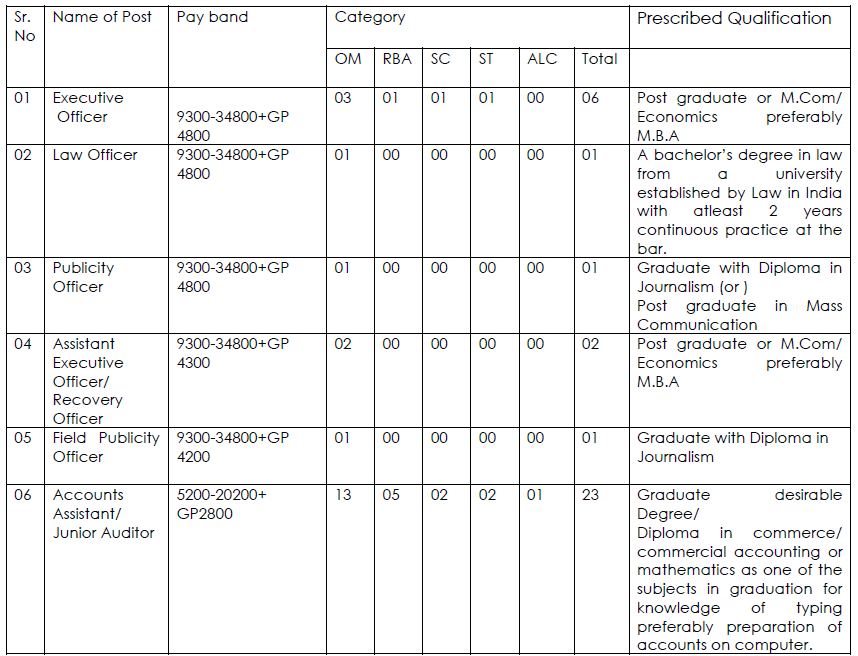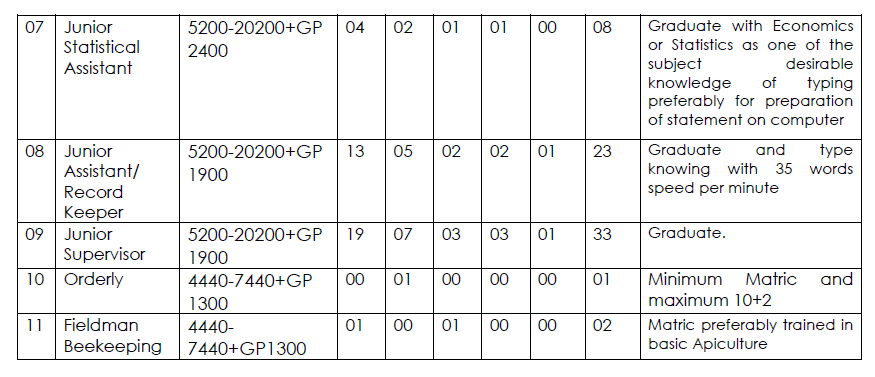 A. APPLICANTS BASIC ELIGIBILITY CONDITIONS
The Applicant must be a permanent resident of Jammu and Kashmir State as defined in Section 6 of Constitution of J&K State.
Age as on 01.01.2016
i. Minimum 18 years; and
ii. Not above:-
(a) 40 years in case of open merit.
(b) 43 years in case of SC/ST/RBA/ALC/OSC candidates.
(c) 42 years in case of Physically Challenged candidates.
(d) 48 years in case of Ex-Servicemen.
(e) 40 years in case of candidates in Government Service/Contractual
B. HOW TO APPLY AND PROCEDURE FOR SELECTION
 A Bank draft /Bankers Cheque /Pay order for an amount Rs.300 drawn in favour of J&K Khadi and Village Industries Board payable at Srinagar should be attached with application form.
Candidate must possess the academic /Technical qualification obtained from a recognized university /Board and fulfill all the eligibility conditions prescribed for the post for which the applicant applies by or on the last date fixed for receipt of application forms.
In service candidates may apply through his/her employer, if he/she possess the required qualification prescribed for the post for which the candidate applies.
The application form should be filled in neatly and legibly with blue or black Ball pointed Pen.
A photograph cut to the size of space earmarked for the purpose in application form dully attested by a Gazetted officer should be pasted therein.
Candidates who are eligible for more than one post are required to apply separately for each post.
Candidate shall attach self-attested copies of following documents with his/her application form.
a) Date of birth certificate.
b) Permanent Resident certificate.
c) Qualification certificate(s) along with marks card(s).
d) Reserved category certificate issued by the competent authority.
e) Experience/Training certificate issued by the designated/ competent authority. Distinction in sports(certified by Secretary J&K Sports Council to be an outstanding person in terms of J&K Appointment of outstanding sports persons Rule 1998.
f) Distinction in NCC activities(Holder of Grade "C" Certificate)
g) Special Attributes.
8. The degrees/diplomas obtained through distance modes which are inconsonance with the Government Order      No;252-He of 2012 dated 30.05.2012 shall be entitled subject to terms and conditions mentioned therein.,
9. The prescribed qualification reflect the bare minimum requirement of the job and mere possession thereof shall not entitle a candidate to be called for written test / interview. Ordinary the KVIB shall restrict the no of candidates to be admitted for Viva-Voce / Interview to a maximum of fifteen times of number of vacancies after holding a written test of all the candidates in terms of the clarification conveyed by Industries and Commerce Department vide Communication No:IND/KVIB/19/2013 dated:24.04.2014 and short listing, in applying for class IV posts.
10. The candidate must produce the originals of documents/ testimonials/category certificates etc before the committee constituted for the viva-voce interview. Any candidate who fails to produce the relevant
original documents/testimonials on the scheduled date shall not be allowed to appear in the Viva-voce/interview.
11. Incomplete application forms without prescribed fee photo and photo copies of certificates dully attested shall not be considered.
12. Any candidate found guilty of imprisonment or submitting fabricated/ tempered documents/testimonials or making false/incorrect statements or suppressing material/information may in addition to rendering him /her liable for criminal prosecution, be declared permanently or for a specific period from being considered for any or all recruitments made by the KVIB.
13. No TA/DA shall be paid for participation in the written test/Viva-voce /interview.
14. Candidate must be of sound bodily health. He /she must if selected be Prepared to u ndergo such medical examination as provided under Rules.
15. No call letters shall be issued by the Board to any candidate for appearing in the written test and Viva-voce interview. However Board will give wide publicity through print and electronic media, official website (jkkvib.nic.in) about the venues, dates of written test/viva-voce/ interview for information of all eligible candidates. No claim of being un aware of the dates/schedule for written test/viva-voce interview shall be entertained.
16. In case of the post of orderly, the applicant shall submit an affidavit to the effect that in case he/she found higher qualified than that of prescribed qualification his/her services shall be liable to be terminated.
17. Candidates who have applied in pursuance to advertisement Notice NO:KVIB/01 of 2013 and No. KVIB/02 of 2013 dated 26.04.2013 need not to apply afresh as the candidates fulfilling the eligibility criteria will also be considered.
CLOSING DATE
I. The application form dully filled in the prescribed format as per specimen given and completed in all respects should be deposited personally or forwarded through registered/speed post /Courier to the office of Administrative Officer J&K Khadi and Village Industries Board Old Secretariat Srinagar-190001 by or before 25.10.2016.
II. The last date for submission of application forms as prescribed above shall be the cut of date for determining the eligibility to apply for the post.
III. The age limit, however, is determinable with reference to the first of January 2016.
IV. Any qualification /experience accrued after last date of receipt /submission of application forms shall not be taken into account for any purpose.
CRITERIA FOR SELECTION OF ELIGIBLE CANDIDATES.
1. Written examination 60 points (on prorata basis).
2. Viva-voce/ interview 30 points
3. Experience in the relevant field 10 points
MODE OF SALARY
The mode of salary for the candidates appointed in terms of the instant advertisement notice shall be same as applicable to newly selected candidates by PSC/SSRB or any other recruiting agency in J&K State for appointment in the Government service.
Click here to like Facebook Page of J&K Khadi & Village Industries Board Page.